Dedicated to one of my favorite bands that I listened to growing up. Back and front graphic with a pop art style similar to the cover of the "Use your illusion" albums.
Dedicated to everyone I know from Michigan & Detroit. Classic English Font Detroit D.
A patchwork of multi tie dyes and vibrant tones.
A combination of olive Carhartt pants, painter's dickie pants, normal blue denim, and other work pants along with a strap to tie it together.
Made reusing several Nike pieces as well as other texture and colored patterns of fleece to make a truly one of a kind piece.
1 of 1 made reusing the chest logo of a nike sweatshirt as well as some champion reverse weave fleece and more.
Made using several tones of black t-shirts along with the main nike tee to create a new take on the classic swoosh
Made reworked several tees and creating something new, the main graphic being a vintage University of Illinois tee.
Made from Carhartt & several other pairs of work pants to make a new modern pair of jeans with many functional aspects.
3/4 length crop top women's hoodie from a vintage Tommy piece
Made reconstructing a vintage black crewneck with corresponding colors to create something new that pops
1 of 1 inspired by military anorak's
Reupholstered vintage chair about 70 years old, foam interior was replaced as well.
1 of 1 made reusing a vintage Gucci crewneck
Made from a vintage Disney crewneck and several other pieces
Cross body bag made reusing a pair of vintage Girbaud jeans
Made from vintage Dickies work pants
This is an original polo sport crewneck that was unwearable due to some red dots on the waist so I took it and cut around the stained area to give it a new life
1 of 2 Peter Pan pieces for @belltwins
2 of 2 Peter Pan set for @belltwins
A colorful tribute to traffic, this was a design I did for my earlier brand ADNS and I had one of the crewnecks left so I made it into something better
Reconstructed from a pair of UNK denim
Inspired by Tommy Hilfiger I reworked this classic 90's big logo flag crewneck into a new piece of history.
Commisioned piece for a Oakland fan.
Made this piece as the flyer for my pop-up in Chicago
1 of 2 pieces made from this pair of Girbaud jeans, the other being a backpack
Allover Vintage Collage Hoodie
1 of 1 project reusing various vintage crewnecks, tees, and denim.
Ralph Lauren Sweater-Hoodie
Made from 3 ralph pieces with a fully button down neck along with side pocket on the left arm and side pockets.
Lil Sweet Vintage Patchwork
1 of 1 commission for a musician.
Reincarnated from a '90 Harley-Davidson crewneck along with several other vintage sweatshirts.
Made from a pair of Girbaud Jeans, laptop space, foam back, Lampo Italian zippers & more.
Made reusing a vintage 80's Apple crewneck and patching it together with other fabrics to create a new piece.
Commissioned project reusing a Nicki Minaj Tour Tee
Made from a vintage gucci hoodie that had a rip down the arm so I chopped it up and reincarnated it.
This piece is getting framed and hung inside Apple Park by it's purchaser.
Made reconstructing a vintage crewneck for the home team.
All things Regular x Justin Mensinger collaboration reconstructing reverse weave champion sweatshirts- only 5 made each were unique with a similar layout
To pair with the blue and red/white bag I had previously done. Made from vintage jeans.
Made from a pair of baggy jeans from the brand Girbaud
90's style mock neck sweatshirt with embroidered bulls slanted graphic and JM wrist logo
Made from vintage Disney memorabilia and fabrics that fit the color palette; intended to look timeless.
Made from a vintage mickey crewneck a friend gifted me that had a stain on it so I made it into something new
Tactical style chest bag made from reconstructing a pair of early 2000's denim.
Reconstructed from a pair of UNK denim from the early 2000's.
Commissioned University of Illinois themed for an alumni.
Inspired by old school box Chevys and the way that classic cars are timeless pieces of art
Made from several vintage sweatshirts.
Pullover 1/4 zip windbreaker made from vintage soccer shorts, track pants, and even another vintage jacket I had found that needed a new life as it had a whole in it.
Made from vintage dickies work pants as well as corduroy to create a coat for all weather.
Made for a client in Oklahoma, simple as that.
Miami teal and orange hoodie, one of my favorite colorways.
A collage of various vintage sweatshirts.
Including various vintage pieces in one new garment with neon green, navy, and multiple shades of yellow.
Commissioned project for Caskey.
Made from a 90's helmet print graphic and artfully pieced together with spellout cuffs and an embroidered arm logo.
Designed to be of the future, past, and present.
Patchworked from various Chicago Bulls jerseys into one new piece
Made from vintage bears shorts
Made from various vintage sweatshirts patchworked together.
Made from Vintage UNK Denim Jeans patch-worked together.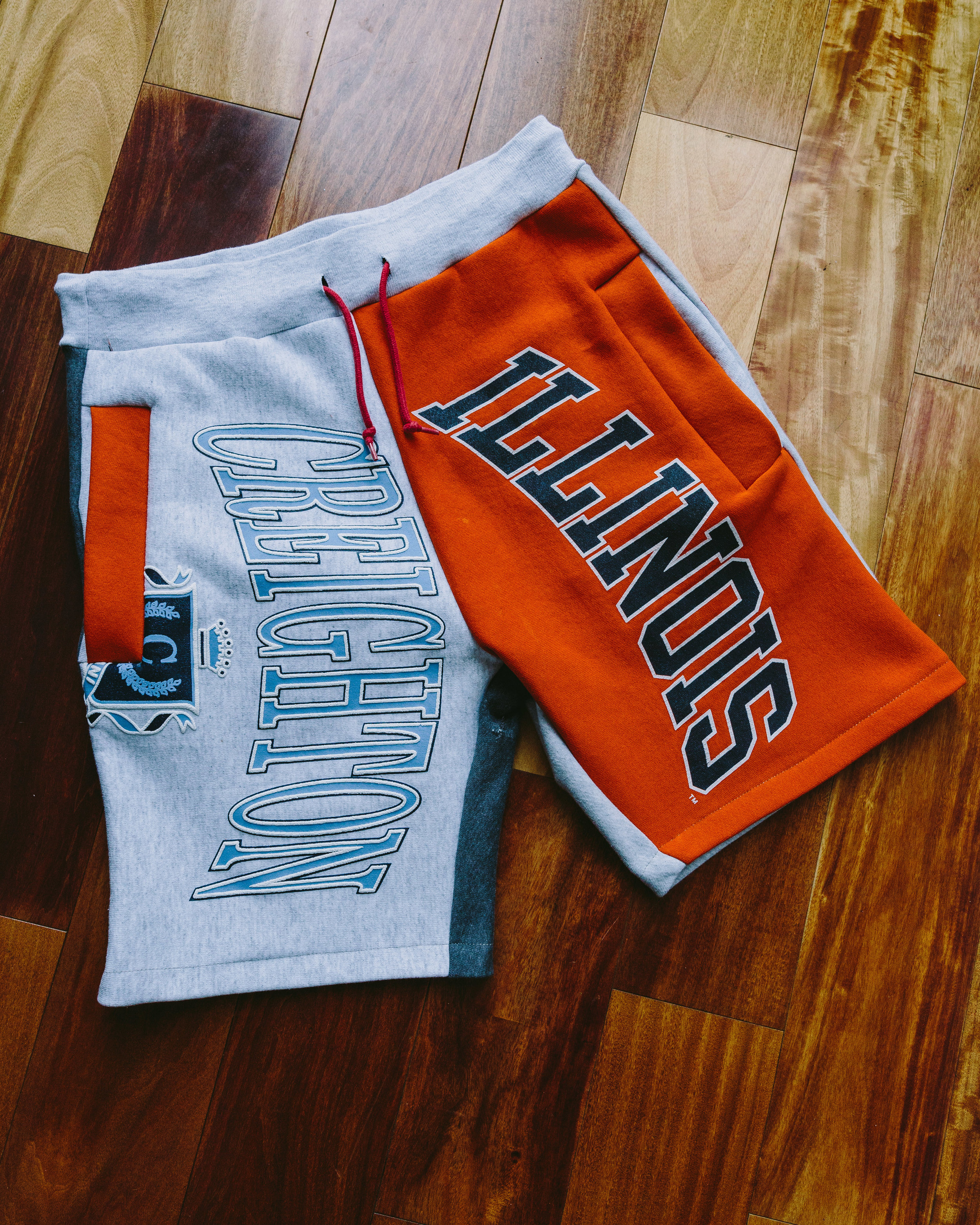 Orange Collage SweatShort
Combined an assortment of unrelated teams and vintage collegiate crewnecks that were sourced in Chicago.
Inspired by vintage nike and other athletic brands that used teal red and purple on many 1980's and 1990's clothing, hat, and shoe designs.
Inspired by Military Anoraks, this piece was carefully stitched from various denim to be a tribute to Americana and Military attire.
Made from various dark denims highlighting an American classic; the Levi's jean.
Commissioned project reusing adidas track pants.
Made from several vintage Chicago bulls sweatshirts for a Chicago native.
Bull Denim stitched vest, I believe in peace not war.
Made from Denim and including the focal point of a pair of Levi's with the classic patch.
Commissioned project for admired MLB teams.
Inspired by Ralph Lauren, Tommy Hlifiger, and Phil Knight I made these on commission but would have gladly made them on my own to pay homage.
Two piece set commissioned for a client traveling abroad.
Michigan themed shorts from University of Michigan to the Detroit Red wings.
Simple and straightforward grayscale.
A large duffel bag I made from various vintage denim & surplus military straps.
Made from denim and patchworked together, this was actually inspired by one of my first pieces I ever made & sold, I just remade it in a similar style.
Detroit/Michigan themed, Tigers, Red Wings, Michigan, and Bad Boys.
Commisioned simple patchwork I did to a pair of Levi's.
Overnight Patchwork Duffel
The very first bag I made; this was done reusing vintage denim as well as deadstock vintage hardware and straps
Once again combined my pasts with a Michigan & Chicago collage.
Commissioned piece bulls themed from various vintage crewnecks/hoodies.
Made from Various Vintage sweatshirts
Made from vintage pants such as Carhartt work jeans, with red, white, and blue webbing.
Commissioned project for a Basketball & Cheerleading coach.
Denim bag constructed from vintage jeans.
Midwest inspired by the Midwest